The crypto market is recently reflecting signs of improvement. The top players of the market are crawling their way up after an unexpected price crash. From the last week, there has been a substantial amount of improvement in the coin, including Tron.
On November 25, 2019, TRX coin was spotted breaching the 30-day low and setting a new one at $0.0131. However, today, the TRX price is dealing at $0.01558. The market cap is noted at $1,055,324,796.
TRX/USD Price Chart: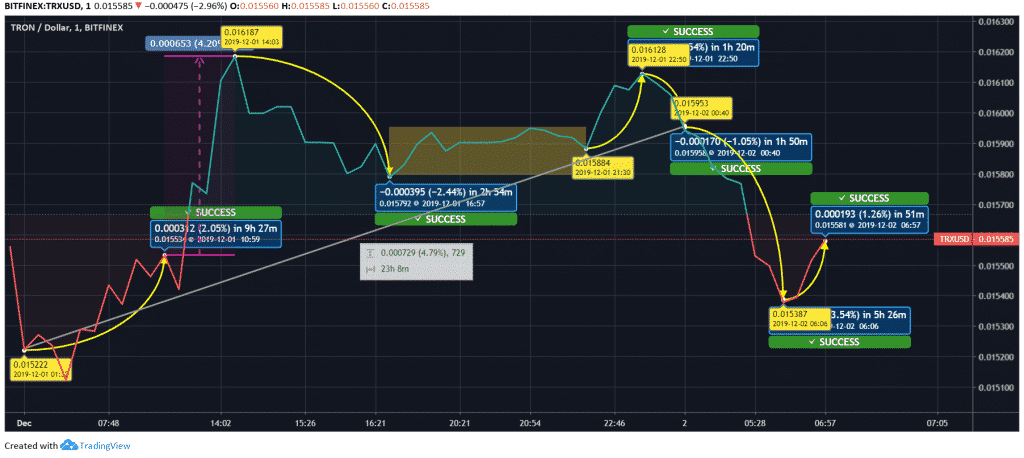 Tron Price Prediction:
TRX coin was at $0.0152 on yesterday. The coin jumped to $0.0155 by 2.05%. The currency escalated to $0.0161 by 4.20%. Later, the Tron price dropped to $0.0157 by 2.44%. The price remained at the level for quite some time, and towards the closing hours, the price jumped to $0.016128 again. The coin slipped before closing and touched $0.0159 by 1.05%. Despite a volatile day, Tron marked the progression of 4.79%. Today, the TRX coin started with a tremendous fall. The price fell to $0.0153. Then, it escalated to $0.0155 by 1.26%.
Tron price was spotted dealing at the immediate support level at $0.0153. However, there has been an improvement in the coin that has brought the price to $0.0155. TRX is a high potential coin. The currency would give flourishing results in the future. The traders interested in the coin can opt for short-term investment. The same might give the desired return.
Latest Post
TRON is a revolutionary product needed for an initiative towards the need for transition...

Overview of Banxso Platform  In the world of online trading, Banxso gives the platform...