The volatility of the crypto market has been ravaging the price trends of the altcoin like Cardano. Holding the value upwards is a tough challenge for ADA coin, and this is the reason why a positive turnaround of the coin will not be easy in this intense unfavorable market conditions.
Cardano Price Analysis
From the 5-day Cardano chart, it is cleared that the coin is hardly able to withstand the intense volatile condition of the market and this is the reason why its value is getting deterred miserably. Its momentum towards an upward trend is negligible. On 14th July, ADA got traded at 0.062219 USD. From 16th July till yesterday noon, it was under complete downtrend. Yesterday, its value fell to as low as 0.0534 USD. Within 5-days, Cardano price has been deterred by 6.91%. Based on the above conditions, we assume that in the upcoming days, ADA price may trade around its immediate support level of $0.055048, and if the coin trade higher than it may reach around its immediate resistance level of $0.061.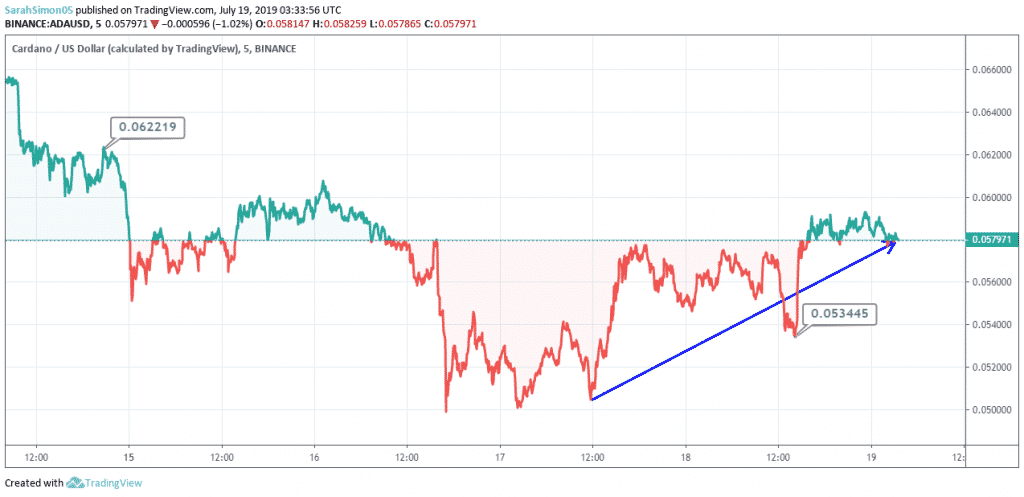 From the above analysis, we may conclude that at present, ADA is not at all suitable for investment as it is in a highly unstable condition. It is more prone to decline downwards than to rise above. Until the market condition is getting improved, Cardano should not be considered as a good option for investment.
Latest Post
TRON is a revolutionary product needed for an initiative towards the need for transition...

Overview of Banxso Platform  In the world of online trading, Banxso gives the platform...